While people will still be in the valentine weekend spirit, contemporary Kenyan rapper will be holding another concert in Nakuru town within the Rift valley.
Unlike other concerts where music will be the main theme, here all matters agriculture will hold first priority.
It is another town for the firming is cool circuit perhaps an effort to target the youth in particular to
go back to farming.
The use of Juliani as the brand face for the farming is cool nationwide tour is symbolic not only because the rapper has a huge following on social media and also due to his celebrity status but also due to the fact that he came from a humble background and before making it
big in the music industry was barely trying to survive like many
unemployed Kenyan youth.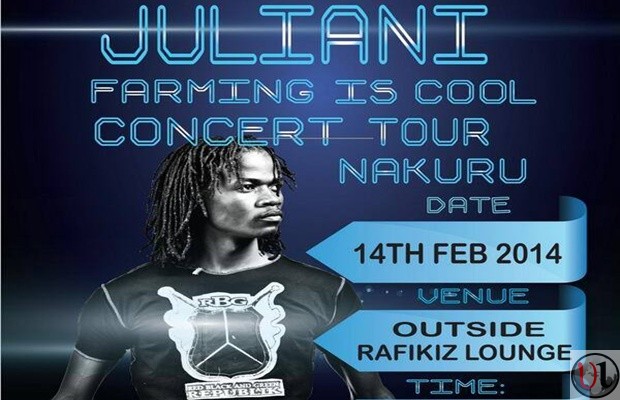 It is the same message that Nigerian superstar D'banj was selling in addis ababa last month
as part of the one campaign lobbying governments to increase the financial allocation to the agricultural sector to about 10 per
cent of the national budget.
Soon after D'banj was officially launched there was a lot of criticism as to whether he was the right person for the job, as with the Juliani here back in Kenya, the main argument for many critics being that they neither sing about farming or potray the lifestyles of hardworking farmers.
I view things differently. By 2050 Africa will still have among the highest number of hungry people in the world only that the numbers would have doubled. Yet Africa as at now has the largest percentage of uncultivated land in the world and among the highest number of unemployed youths.
Me thinks. We need to get as many youths back to the farms as soon as possible in order to bolster the continent's food baskets. If we are to rap them all the way back to the fields then so be it!!
So I urge you to take time from your lovey dovey moments this weekend and spread some farm love by turning up for some farm love if you will be in and around Nakuru!
You would be shock to learn how easy it is to access agricultural financing and other necessary farm inputs!!